Ref:
Date:
Location:
Photographer:
[clikcontent type=paymentBuyLink replaceable=true]
Ref:
Date:
Location:
Photographer:
[clikcontent type=paymentBuyLink replaceable=true]
News
Rosalind Davis' is an artist, Curator for Collyer Bristow Gallery, writer, lecturer and consultant. A graduate of The Royal College of Art (2005) and Chelsea College of Art (2003) Davis has exhibited nationally and internationally. Her central concerns in her practice are architecture, transformation and reconfiguration of space working across painting, installation, drawing and photography. She is also co-author of What they didn't teach you in art school, published by Octopus.

In 2018 Davis has a solo show at Sevenoaks Visual Art Forum Gallery and no format gallery, and group exhibitions Do Re Me So La Te Do at Griffin Gallery curated by Karen David and New Relics at Tameside Gallery curated by Tim Ellis and Kate Terry.
Upcoming / Current Exhibitions, Press and Talks
ASSEMBLAGE INTERVIEW WITH ROSALIND DAVIS
Megan Elliott, December 2017
Rosalind discusses art, art education, exhibitions, Collyer Bristow Gallery. What They Didn't Teach You In Art School and advice for artists
Read the in depth interview
here.
Secondary Structures. Wall Street International Article
Definitely Uncertain Sculpture
by Jillian Knipe
An article about Rosalind Davis' work as Curator and Artist, Andrea Madjesi-Jones, Silvina Soria and Andrea V Wright.
Excerpt....
"These four artists broaden what was once referred to as "form" into "formation". From a singular shape to an emergence of bringing something or some things into existence. As a result, their work becomes a little more difficult to interpret than their predecessors but is all the more liberated and democratic for it. They have progressed from the mantra of the minimalists who insisted on dealing with only what was in front of them, or, in the words of Frank Stella, 'what you see is what you see', to acknowledging the body, the present.unseen and personal histories. These are all arguably and equally what is there in the moment alongside the materials for making...
Rosalind Davis also observes this tension between the personal and the order, beginning with a focus on public housing. Aside from her curatorial work, she is a published author and an artist in her own right. Her practice has developed from an exterior view of buildings to stepping inside the room and exploring the space within. 'Haus Constructiv' 2017 is a modular structure of steel, perspex and thread. It plays off last century's constructivist and concrete artists to create a transformative piece which looks to fold, shift, disassemble, lean and reconfigure itself with endless possibilities. Rosalind relates this to her earlier paintings of brutalist and modernist buildings as if she's 'taken the structure and pulled it out and turned it into a sculpture'. Read the full article
here
Do Re Mi Fa So La Te at Griffin Gallery Perimeter Space
Until April 20th.
Griffin Gallery, 21 Evesham Street, London W11 4AJ
Curated by Karen David
Ralph Anderson, Kiera Bennett, Katrina Blannin, Isha Bohling, Juan Bolivar, Rebecca Byrne, Joel Crerar, Rosalind Davis, Mathew Gibson, Jane Hayes Greenwood, Alex Gough, Fiona Grady, Jeanette Gunnarsson, Aly Helyer, Justin Hibbs, Ana Kazaroff, Dominic Kennedy, Caterina Lewis, Mac McNaughton, Joe Madeira, Lee Maelzer, Alex March, Alex Gene Morrison, José Carlos Naranjo, Stephanie Nebbia, Selma Parlour, Charley Peters, James Petrucci, Tom Platt, Kes Richardson, Alan Sastre, Susan Sluglett, Mimei Thompson, Alice Wilson, Sarah Kate Wilson, K. Yoland, Neil Zakiewicz
Do – A deer, a female deer
Re – A drop of golden sun
Mi – A name I call myself
Fa – A long, long way to run
So – A needle pulling thread
La – A note to follow so
Te – A drink with jam and bread
(Rodgers and Hammerstein The Sound of Music 1959*)
From the 1959 Rodgers and Hammerstein musical, 'Do-Re-Mi' is sung by Julie Andrews in the film adaptation of The Sound of Music where she plays the part of Maria; a matriarch or nanny in charge of looking after the Von Trapp children. Maria weaves a narrative to teach the notes of musical scales in turn teaching the Von Trapp children to sing in the process. In Do Re Mi Fa So La Te the musical scale is used as a metaphor for the use of colour in painting – When you know the notes to sing. You can sing most anything. The paintings in this exhibition are installed in the Perimeter Space, on a pale yellow 16m wall and aligns the exhibition with the beginning of Spring; heralding the joy of colour and the hope of fresh starts, and new-blooms of edelweiss.
A publication accompanies this exhibition with text from Isha Bohling. Publication launch date to follow.
New Relics
PV: Friday 1 June 2018, 6.30-8.30pm
Curated by Tim Ellis and Kate Terry
1st – 24th June
Thames-Side Studios Gallery
Trinity Wharf Studio TW27, Harrington Way, Warspite Road, Royal Borough of Greenwich, London SE18 5NR
Current exhibition as Curator at Collyer Bristow Gallery, London
Read the full press release
here
Featured in Paul Carey-Kents Top art exhibitions
Law firm Collyer Bristow have, remarkably, now been using their offices to show art for 25 years*. And they're big shows: 60-odd works by 20 artists appear in regulator curator Rosalind Davis' latest, which uses a Talking Heads lyric even older than the gallery to set off thoughts about what the future might be like. Any danger of sci-fi similitude is countered by plenty of wit (eg Kitty Sterling, David Worthington, Sasha Bowles) and a good sprinkling of retro-futurism (Tim Ellis, John Greenwood and young German Arno Beck, who has the surprising idea in one of his age of using a typewriter to convert digital images into deliciously delicate analogue equivalents).
here
'In the future all material items will be free.'? The show's curator, Rosalind Davis, also informed me that it was the Gallery's silver anniversary. Being aware of interactive events I've created in the past, when I've either given away small objects or put them up for exchange, Rosalind asked me if I might be able to come up with an idea to acknowledge Collyer Bristow's amazing 25 year run of supporting artists.
Read Kate's fab blog here on the ideas, development and outcome of the piece 
here 
The Undead Painters Flash Salon
2 February 2018, 7-9pm
ACME, Studio 14, 2nd Floor, 165 Childers Street, Deptford, SE8 5JR
By invitation only. Please email editor@saturationpoint.org.uk
The Undead Painters FLASH SALON 4 brings together some of the most skilled and knowledgeable painters working in and around London today
For her solo show at no format Gallery, Davis created a series of flexible spatial architectural installations; reconfiguring and re constructing modular steel forms, creating a multi-dimensional material built environments incorporating thread, luminous perspex sheets and painted canvases. Playing with the modular nature of the work and the temporal aspects of transformation the installations create illusions within the space which the viewer can both navigate and compose for themselves.
Read about the themes and ideas in the exhibition in her interview with Anthology
here
.
Intersection
'Intersection' explores the point at which the visual arts and architecture meet.
13-16 July 2017
DOK Artist Space, 94 Ocean Drive, Edinburgh EH6 6JH
Featuring the work of James Basey, Rosie Brotherwood, Tamsin Cunningham, Rosalind Davis, Emily Moore, Mark Osborne, Mega Rea, Remi Rough, Paul Stallan, Charlie Stiven and Olivia Turner. The show also features a live musical performance, by Hans Klammer.
Curated by artist Olivia Turner, Co-Director of DOK Artist Space and Chris Dobson, Architecture Fringe Co-Producer and Associate Director at 3DReid.
www.dokartistspace.org
Recent talks
WHAT THEY DIDN'T TEACH YOU IN ART SCHOOL
Tuesday, February 20, 2018. 7:00 - 9:00 PM
Hotel Elephant, 1-5 Spare Street, SE17 3EP
[/b]
[b]Read 7 top tips from me on the Hotel Elephant blog here
Other recent Press
:
Rosalind Davis talks about the process and ideas behind her work in Make_Shift at Collyer Bristow Gallery with dateagleart.
http://bit.ly/2Bm1FGL
An interview with Rosalind by the Art Side of Life is now live on YouTube where she talks about her art education and subsequent career as an artist and curator, fab mentors and collaborations, time, organisation, valuable experiences and exhibitions and great advice she was given... and building your own art world...watch it
here.
Book now available!
'What they didn't teach you in Art School'
written by Rosalind Davis and Annabel Tilley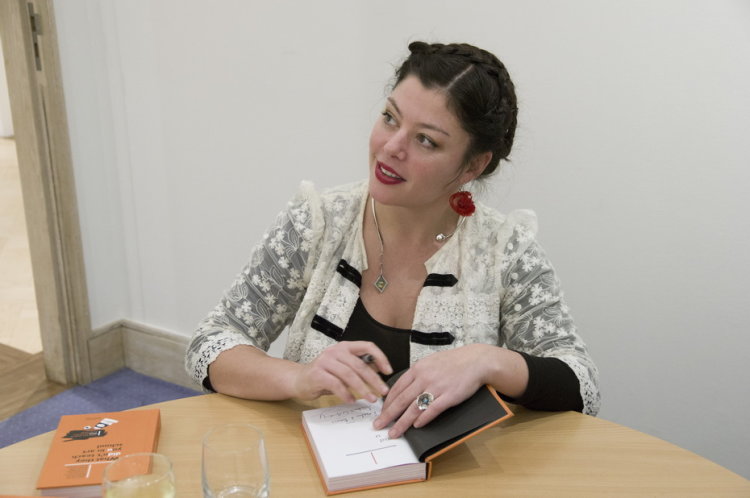 Review:
What They Didn't Teach You in Art School:
Rosalind Davis and Annabel Tilley (Octopus Books)
A comprehensive introduction to how to survive and succeed as an artist, artist-curators Rosalind Davis and Annabel Tilley have created an easy to use guide that draws on the advice and experience of over 30 contributors, including artist and a-n contributor Alistair Gentry, curatorial duo Day+Gluckman, and painter Graham Crowley.... what is new and hugely worthwhile is the way they have been brought together in a practical and accessible format. There's much here that will be helpful for artists starting out, and possibly some useful tips for more established practitioners too.
Chris Sharrett, a-n.
' Essential Reading for Artists' The Observer.
'What they didn't .....' reads beautifully. It's thankfully free of jargon and there's also no arts-speak - that's not only refreshing but essential in a book designed to demistify and enable. The style is both accessible and intelligible. The balance of lucidity and (raw) information is a hell of an achievement. The 'voice' of the writer(s) is authoritative and generous. Instead of dictating to the reader you offer them a range of strategies. I was very glad to see that you've avoided giving undue credence to the business of celebrity, 'success' and fame. Your book allows the reader to address their needs in a purposeful and intelligent manner.
I also enjoyed the way in which you've managed to encourage the reader to reference their own values and needs. You've resisted the temptation to impose a template.'
Graham Crowley
.
Order your copy
here
.
Also available in the Tate, the Barbican, Waterstones, Saatchi Gallery, ICA, Baltic, National Gallery at Guardian Books and many more.
Overview