Ref:
Date:
Location:
Photographer:
[clikcontent type=paymentBuyLink replaceable=true]
Ref:
Date:
Location:
Photographer:
[clikcontent type=paymentBuyLink replaceable=true]
News
Rosalind Davis' is an artist, Curator for Collyer Bristow Gallery, writer, lecturer and consultant. A graduate of The Royal College of Art (2005) and Chelsea College of Art (2003) Davis has exhibited nationally and internationally. Her central concerns in her practice are architecture, transformation and reconfiguration of space working across painting, installation, drawing and photography. She is also co-author of What they didn't teach you in art school, published by Octopus.
Upcoming / Recent Exhibitions, Press and Talks
Read the full press release
here
Current exhibition as Curator (and Artist!) at Collyer Bristow Gallery, London
[bMake_Shift Curated by Rosalind Davis[/b]
Exhibition continues to 13 February 2018.
Collyer Bristow Gallery, 4 Bedford Row, London WC1R 4TF
To fold, to mark, to gather, to collect, to surround, to encircle, to hang, to distribute, to systematize, to simplify, to distill, to remove, to discard, to disarrange, to modulate, to mix, to bond, to stretch, to join, to repair, to expand. to continue…
See the online catalogue
here
full of press, videos, interviews, install and PV photos.
The Undead Painters Flash Salon
2 February 2018, 7-9pm
ACME, Studio 14, 2nd Floor, 165 Childers Street, Deptford, SE8 5JR
By invitation only. Please email editor@saturationpoint.org.uk
The Undead Painters FLASH SALON 4 brings together some of the most skilled and knowledgeable painters working in and around London today
Upcoming talks
WHAT THEY DIDN'T TEACH YOU IN ART SCHOOL
Tuesday, February 20, 2018
7:00 - 9:00 PM
Hotel Elephant, 1-5 Spare Street, SE17 3EP
£5 per ticket, book
here
Latest Press
:
Rosalind Davis talks about the process and ideas behind her work in Make_Shift at Collyer Bristow Gallery with dateagleart.
http://bit.ly/2Bm1FGL
An interview with Rosalind by the Art Side of Life is now live on YouTube where she talks about her art education and subsequent career as an artist and curator, fab mentors and collaborations, time, organisation, valuable experiences and exhibitions and great advice she was given... and building your own art world...watch it
here.
Recent Newsletter and talks
Make_Shift open at Collyer Bristow Gallery | February Talks & Lectures:
16 November- Surviving and Thriving as an Artist talk for Tonbridge Art School. 11.30-1pm
17 November- UAL Talk: How to collaborate without selling out. Chelsea College of Art, 2.30-4pm.
27 November- Surviving and Thriving as an Artist talk for Morphe, 7-9pm. Booking and more info
here
Recent Exhibitions:
PIY PaintLounge at Sluice Biennial
Painting salon, conversations and fundraiser for Hospital Rooms
Arch 12 Bohemia Place, Hackney E8 1DU
30 September - 3 October, 12 - 6pm
Graham Crowley, Rosalind Davis and Clare Mitten talk, 2nd October at 2pm.
https://www.piypaintlounge.com
For her solo show at no format Gallery, Davis created a series of flexible spatial architectural installations; reconfiguring and re constructing modular steel forms, creating a multi-dimensional material built environments incorporating thread, luminous perspex sheets and painted canvases. Playing with the modular nature of the work and the temporal aspects of transformation the installations create illusions within the space which the viewer can both navigate and compose for themselves.
Read about the themes and ideas in the exhibition in her interview with Anthology
here
.
Intersection
'Intersection' explores the point at which the visual arts and architecture meet.
13-16 July 2017
DOK Artist Space, 94 Ocean Drive, Edinburgh EH6 6JH
Featuring the work of James Basey, Rosie Brotherwood, Tamsin Cunningham, Rosalind Davis, Emily Moore, Mark Osborne, Mega Rea, Remi Rough, Paul Stallan, Charlie Stiven and Olivia Turner. The show also features a live musical performance, by Hans Klammer.
Curated by artist Olivia Turner, Co-Director of DOK Artist Space and Chris Dobson, Architecture Fringe Co-Producer and Associate Director at 3DReid.
www.dokartistspace.org
Stewarts Law RCA Secrets
9 September 2017 to 15 September 2017 | 9am – 6pm | Late openings 11 & 15 until 8pm.
Royal College of Art, Battersea, Dyson Building
The RCA's annual fundraising postcard sale will feature over 2,000 postcard-sized drawings, collages, photographs and sculptures by some of the world's most celebrated artists and designers, as well as by promising students from the College.
RCA Secret attracts high-profile art collectors and passionate art lovers. Each of the postcards on display is sold anonymously for £55, with the identity of the maker revealed only when the purchase is complete. All profits from the sale go towards the RCA Student Award Fund, which helps emerging artists at a formative stage in their careers by funding scholarships to the College.
Book now available!
'What they didn't teach you in Art School'
written by Rosalind Davis and Annabel Tilley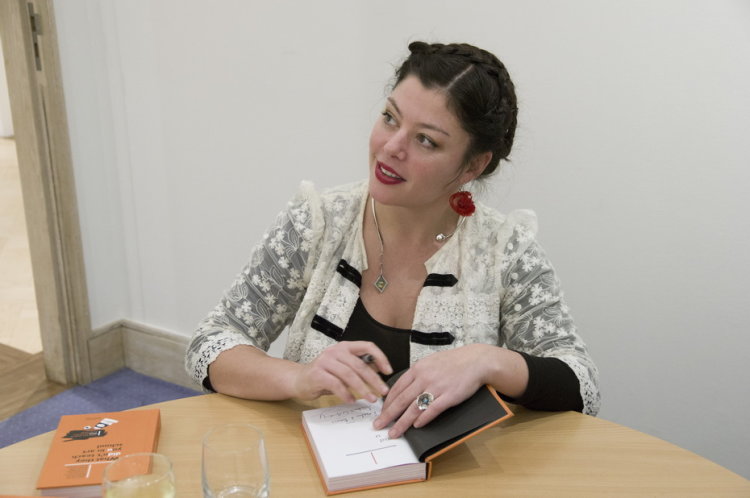 Review:
What They Didn't Teach You in Art School:
Rosalind Davis and Annabel Tilley (Octopus Books)
A comprehensive introduction to how to survive and succeed as an artist, artist-curators Rosalind Davis and Annabel Tilley have created an easy to use guide that draws on the advice and experience of over 30 contributors, including artist and a-n contributor Alistair Gentry, curatorial duo Day+Gluckman, and painter Graham Crowley.... what is new and hugely worthwhile is the way they have been brought together in a practical and accessible format. There's much here that will be helpful for artists starting out, and possibly some useful tips for more established practitioners too.
Chris Sharrett, a-n.
' Essential Reading for Artists' The Observer.
'What they didn't .....' reads beautifully. It's thankfully free of jargon and there's also no arts-speak - that's not only refreshing but essential in a book designed to demistify and enable. The style is both accessible and intelligible. The balance of lucidity and (raw) information is a hell of an achievement. The 'voice' of the writer(s) is authoritative and generous. Instead of dictating to the reader you offer them a range of strategies. I was very glad to see that you've avoided giving undue credence to the business of celebrity, 'success' and fame. Your book allows the reader to address their needs in a purposeful and intelligent manner.
I also enjoyed the way in which you've managed to encourage the reader to reference their own values and needs. You've resisted the temptation to impose a template.'
Graham Crowley
.
Order your copy
here
.
Also available in the Tate, the Barbican, Waterstones, Saatchi Gallery, ICA, Baltic, National Gallery at Guardian Books and many more.
Recent Exhibitions / Curatorial Projects /Talks
The Undead Painters
FLASH SALON III
3rd March 6-9pm
Undead Painters proudly presents FLASH SALON III at Saturation Point Space in Depford. Featuring works by some of London's strongest painters.
Saturation Point
ACME, Studio 14, 2nd Floor
165 Childers Street
Deptford
SE8 5JR
Shapeshifters
Sasha Bowles, Rosalind Davis, Justin Hibbs, Evy Jokhova and Gibson/Martelli.
A residency commencing in an exhibition curated by Rosalind Davis.
12-22 October 2016
Arthouse, 45 Grange road, London, SE1
www.arthouse1.co.uk
Overview
Press
A review of Fabrications, a recent exhibition at the Furniture Makers Hall by David Gledhill on @an_artreviews
Davis' paintings cite and improvise on a high modern repertoire of architectural and design forms, adding stitched geometries and broad washes of translucent pigment to conjure a set of complex interior spaces that convey something of the existential doubt that began to infect the modernist project during the post-war period. In the drawers of an elegant desk in the upstairs room, Davis has placed a series of altered photographic reproductions from Lesley Jackson's Modern British Furniture.
Stitched and painted across, these canonical tubular steel and leather chairs are pulled back from their pristine functionalism to a provisional status that simultaneously offers and questions the promise of a plan for living. The use of needlecraft in both the paintings and photographs reinfuses the angular severity of industrialised production methods with a comforting domesticity, reminding the viewer of the quite different principles that had informed pre-modern design movements.
Entry Point, a steel and thread sculpture suspended in the stairwell, effortlessly achieves a harmony of materials, form and space that evokes approval of the modernist integration of art and life,
Read more
here
.
Work featured in;
Stitch Stories: Personal Places, Spaces and Traces in Textile Art by Cas Holmes
Arts Management at Chelsea College of Art
Social Media Marketing course at LCC
As a Social Media Marketing expert, Davis has consulted for arts organisations, charities and independants as well as corporations such as BBC4, E4 and recently the Queen Elizabeth Olympic Park. She has been delivering lectures, workshops and short courses in social media for a number of years and teaches on the social media marketing course at UAL. Davis focuses on ideas generation, creative strategies, content building and audience engagement.
Art Textiles in Mixed Media Stitch at West Dean College.
10-13 December.
More info
here
.