Ref:
Date:
Location:
Photographer:
[clikcontent type=paymentBuyLink replaceable=true]
Ref:
Date:
Location:
Photographer:
[clikcontent type=paymentBuyLink replaceable=true]
News
Rosalind Davis' is an artist, Curator for Collyer Bristow Gallery, writer, lecturer and consultant. A graduate of The Royal College of Art (2005) and Chelsea College of Art (2003) Davis has exhibited nationally and internationally. Her central concerns in her practice are architecture, transformation and reconfiguration of space working across painting, installation, drawing and photography. She is also co-author of What they didn't teach you in art school, published by Octopus.

In 2018 Davis has a solo show at Sevenoaks Visual Art Forum Gallery, a two person show with Justin Hibbs at no format gallery. Group exhibitions: Do Re Me So La Te Do at Griffin Gallery curated by Karen David, New Relics at Thameside Gallery curated by Tim Ellis and Kate Terry and Whispering Colour at Bo Lee Gallery. In 2019 Rosalind will have a solo show at the Foundry Gallery, Kensington, London for 3 months.
You can also see several of Rosalind's work on permanent display at Collyer Bristow Gallery. Please email if you would like a viewing.
Please visit the Curatorial Projects Page for latest exhibitions Rosalind is curating.
Upcoming / Current Exhibitions, Press and Talks
New Relics
Curated by Tim Ellis and Kate Terry
Exhibition Dates: 2-24 June 2018
Thames-Side Studios Gallery
Trinity Wharf Studio TW27, Harrington Way, Warspite Road, Royal Borough of Greenwich, London SE18 5NR
Salvatore Arancio, Vasilis Asmakopoulos, Andy Bannister, Olivia Bax, Dominic Beattie, Katie Bethune-Leamen, Gabriel Birch, Hannah Birkett, Simona Brinkmann, Daryl Brown, Hannah Brown, Bettina Buck, Stewart Cliff, Clare Burnett, Matt Calderwood, Lotti V Closs, Benjamin Cohen, Gary Colclough, Katie Cuddon, Blue Curry, Rosalind Davis, Alexander Devereux, Dexter Dymoke, Tim Ellis, Brian Griffiths, Lilah Fowler, Holly Hendry, Justin Hibbs, Fred Hunt, Andrea Jespersen, Paul Johnson, Evy Jokhova, Ana Kazaroff, Vera Kox, Lucy LeFeuvre, Alan Magee, Eva Masterman, Ian Monroe, Rupert Norfolk, Roula Partheniou, Harrison Pearce, Hamish Pearch, Mark Pearson, Chris Poulton, Frances Richardson, Michael Samuels, Alex Scarfe, Zoe Schoenherr, Amy Stephens, Karen Tang, Kate Terry, Finbar Ward, Elaine Wilson, Sarah Kate Wilson, Andrea V Wright, Ben Woodeson
The term relic is used to describe something that has survived the passage of time, especially an object or custom whose original culture has disappeared, but also an object cherished for historical value such as a keepsake or heirloom……
New Relics presents a diverse range of contemporary positions in sculpture from a cross generational group of international artists. The exhibition demonstrates the multiple directions and potentials of sculpture and how it is continually shifting and being reinterpreted. The themes and concepts illustrated show the depth of the medium and the alluring power of materials to conjure new meanings and interpretations. New Relics is an opportunity to engage with these potentials that have come to encapsulate, and exist within, the definition of Sculpture.
Thames-Side Studios Gallery open Thursday-Sunday 12-5pm during exhibitions and by appointment.
Whispering Colour at Bo Lee Gallery
PV June 28 2018, 6-8pm
Sue Arrowsmith | Michelle Benoit | Rosalind Davis | Susan Gunn | Dolly Kershaw | Philippa Lawrence
Exhibition continues 29 June - 19 July
222 Rye Ln, London SE15 4NL
https://www.bo-lee.co.uk/exhibitions
TALK
The (Fine) Art of Opportunity: Generation, Inspiration, Canniness and Chance
22 June 3.30-5pm
Wimbledon College of Arts,Merton Hall Road, London, SW19 3QA
Most of us recognise that the recipe for making your own luck requires ingredients of determination, resilience and hard work, but also being open to possibilities, a willingness to move organically and flexibly, and the art of persuasion.
Come and hear artist and curator Rosalind Davis talk about that slippery customer opportunity, what it involves and how to spot it, create it, take advantage of it, network for it, and maximise it.
After Rosalind has presented there will be a period for questions and answers, followed by refreshments and an opportunity to visit the degree show.
If you can't make it to Wimbledon for this event, not to worry, we will be broadcasting via Facebook Live on our Facebook page (MFA Wimbledon Emerging Artists 2018).
Free but booking required.
PRESS
ASSEMBLAGE INTERVIEW WITH ROSALIND DAVIS
Megan Elliott, December 2017
Rosalind discusses art, art education, exhibitions, Collyer Bristow Gallery. What They Didn't Teach You In Art School and advice for artists
Read the in depth interview
here.
Secondary Structures. Wall Street International Article
Definitely Uncertain Sculpture
by Jillian Knipe
An article about Rosalind Davis' work as Curator and Artist, Andrea Madjesi-Jones, Silvina Soria and Andrea V Wright.
Excerpt....
"These four artists broaden what was once referred to as "form" into "formation". From a singular shape to an emergence of bringing something or some things into existence. As a result, their work becomes a little more difficult to interpret than their predecessors but is all the more liberated and democratic for it. They have progressed from the mantra of the minimalists who insisted on dealing with only what was in front of them, or, in the words of Frank Stella, 'what you see is what you see', to acknowledging the body, the present.unseen and personal histories. These are all arguably and equally what is there in the moment alongside the materials for making...
Rosalind Davis also observes this tension between the personal and the order, beginning with a focus on public housing. Aside from her curatorial work, she is a published author and an artist in her own right. Her practice has developed from an exterior view of buildings to stepping inside the room and exploring the space within. 'Haus Constructiv' 2017 is a modular structure of steel, perspex and thread. It plays off last century's constructivist and concrete artists to create a transformative piece which looks to fold, shift, disassemble, lean and reconfigure itself with endless possibilities. Rosalind relates this to her earlier paintings of brutalist and modernist buildings as if she's 'taken the structure and pulled it out and turned it into a sculpture'. Read the full article
here
Rosalind Davis talks about the process and ideas behind her work in Make_Shift at Collyer Bristow Gallery with dateagleart.
http://bit.ly/2Bm1FGL
Art Side of Life Interview on YouTube
Davis talks about her art education and subsequent career as an artist and curator, fab mentors and collaborations, time, organisation, valuable experiences and exhibitions and great advice she was given... and building your own art world...watch it
here.
Book now available!
'What they didn't teach you in Art School'
written by Rosalind Davis and Annabel Tilley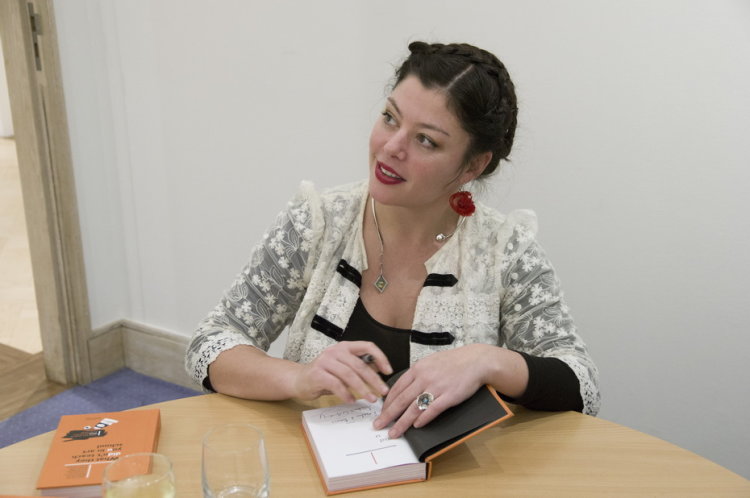 Review:
What They Didn't Teach You in Art School:
Rosalind Davis and Annabel Tilley (Octopus Books)
A comprehensive introduction to how to survive and succeed as an artist, artist-curators Rosalind Davis and Annabel Tilley have created an easy to use guide that draws on the advice and experience of over 30 contributors, including artist and a-n contributor Alistair Gentry, curatorial duo Day+Gluckman, and painter Graham Crowley.... what is new and hugely worthwhile is the way they have been brought together in a practical and accessible format. There's much here that will be helpful for artists starting out, and possibly some useful tips for more established practitioners too.
Chris Sharrett, a-n.
' Essential Reading for Artists' The Observer.
'What they didn't .....' reads beautifully. It's thankfully free of jargon and there's also no arts-speak - that's not only refreshing but essential in a book designed to demistify and enable. The style is both accessible and intelligible. The balance of lucidity and (raw) information is a hell of an achievement. The 'voice' of the writer(s) is authoritative and generous. Instead of dictating to the reader you offer them a range of strategies. I was very glad to see that you've avoided giving undue credence to the business of celebrity, 'success' and fame. Your book allows the reader to address their needs in a purposeful and intelligent manner. I also enjoyed the way in which you've managed to encourage the reader to reference their own values and needs. You've resisted the temptation to impose a template.'
Graham Crowle
Order your copy
here
.
Also available in the Tate, the Barbican, Waterstones, Saatchi Gallery, ICA, Baltic, National Gallery at Guardian Books and many more